The museum brings to life the experience of learning, playing and living at Eton College across six centuries. The museum sets the history and traditions of Eton alongside stories of daily life of students, staff and visitors. Housed in an undercroft once used to store beer for the King's Scholars, the museum serves as a place for members of the public, visiting schools, prospective students, local residents and the college community to explore the social and historical context of the school.
Fun, impressive and thought-provoking. 
Visit the museum
Free and open to the public
Our Displays
There is always something new to see and explore in our series of thematic permanent displays, refreshed periodically with new objects and interpretation. Regularly changing temporary exhibitions delve into the collection to tell untold stories and highlight different aspects of Eton life. Visitors can find out about famous Old Etonians, from poets to prime ministers, and about sports including the Wall Game, as well as discover what and where pupils learn, eat and live.
Families and children can enjoy the museum with activities such as dressing up in Eton uniform, designing your own school colours, or following an exciting trail to explore the displays.
500+
children from local schools visited last year
Museum Highlights
15th-century pilgrim badges purchased as souvenirs by pilgrims to Eton
Unique costumes worn in the Montem procession, rare survivals of historic children's dress
Sporting displays covering the range of games at the school, from Eton's very own Wall Game to the Procession of Boats
Identify the colours for each house, sport or society in the vibrant Eton Colours display
Get a glimpse into a boy's life at Eton in the past and present with recreations of rooms from the Edwardian era and today
Very interesting and kept our five-year-old entertained.

Visitor
Access and Enquiries
To arrange an appointment to visit outside of opening hours or to enquire about the museum collection, please contact the Museum Officer.
Photo by Kelly Sikkema on Unsplash
Join Eton College Collections for a FREE drop in half term family event all about what and how the boys and masters of Eton College ate over the past 600 years (with a little Halloween thrown in as well) Last chance to visit the Six Centuries of food and Dining Exhibition.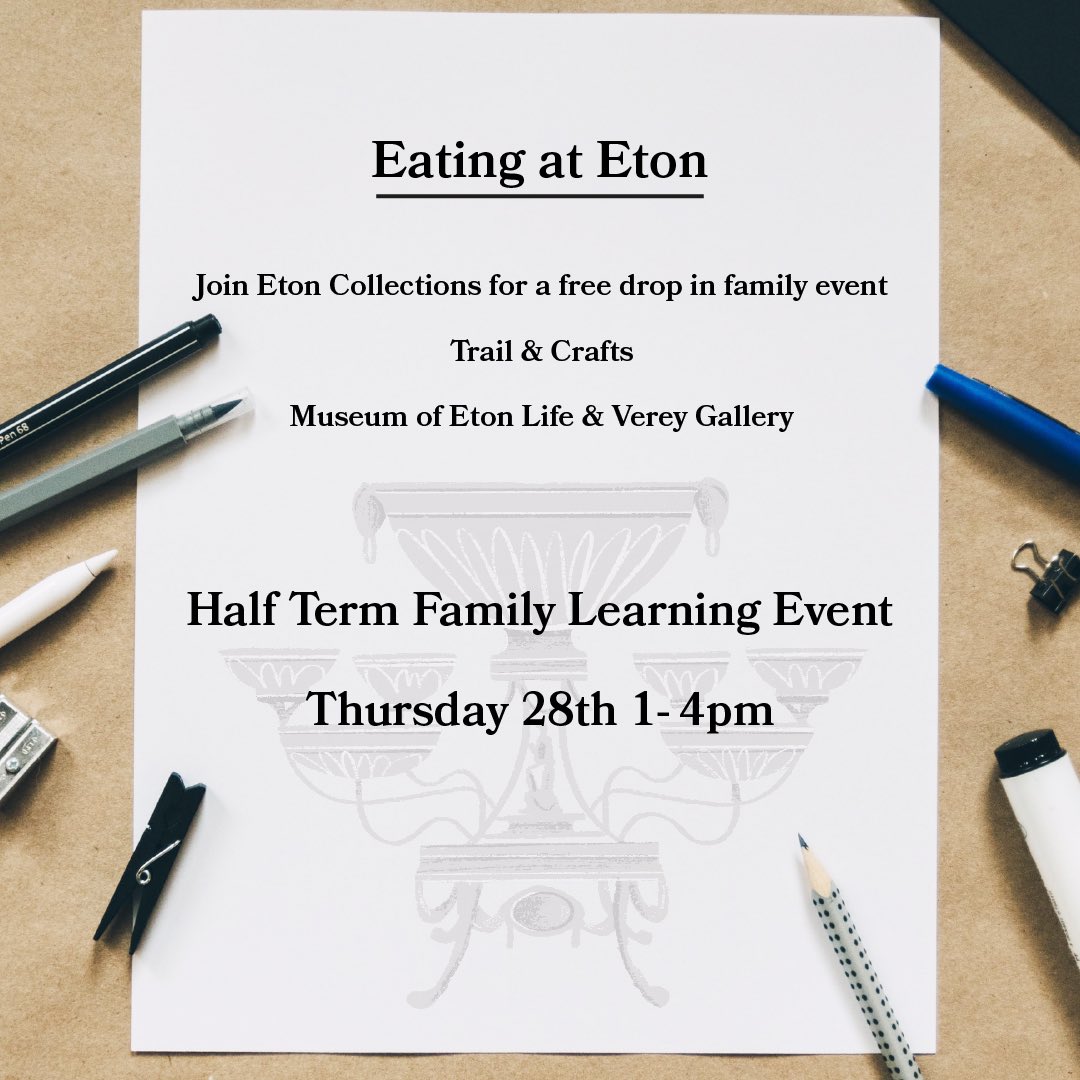 For anyone who will be around with little ones over the break, we are running a half term event in the Museum of Eton Life on October 28 from 1-4 pm. Why not stop by? https://t.co/Gyu0JdgSYk
RT @EtonArchives: Talks, tours and tea… The big three!
RT @SEMFederation: Come and join us for our next Study Day event! We'll be visiting the Eton College Collections for an event themed around…