Objects on display in our Museum of Antiquities cover a vast geographical and chronological frame: from Australia to Afghanistan and from Peru to Babylon. There are tools and weapons dredged from the Thames and the Tiber; potsherds from Knossos on Crete and the foundations of an Eton boarding House. There are also cuneiform tablets from Mesopotamia and Greek ceramics collected by Sir William Hamilton in the 18th century. You will also see a breathtaking collection of flint hand-axes, some of which date from well before the emergence of homo sapiens.
Visit the museum
Free and open to the public
Museum Highlights
a world-class collection of Egyptian faience
a remarkable collection of Egyptian death masks and portraits from the second millennium BCE to the 2nd century CE
a small collection of mummified remains from ancient Egypt
The children loved their visit immensely and would have liked to stay a lot longer!

Visiting teacher
Welcoming Visitors
Our museum staff are always available and happy to suggest interactive activities and hands-on opportunities during your visit, or you are welcome to browse independently. We are also open for  school visits and offer tailored sessions on such topics as Ancient Greece and Ancient Egypt.
The collection can also be explored online, or through our downloadable catalogue.
6000+
objects in the collection
Current Research
Eton College's antiquities have gained an international reputation, and items have been exhibited in France, Germany, Japan, the Netherlands, Spain and the USA. Part of the Egyptological Collection is currently on loan to the University of Birmingham and Johns Hopkins University where it is the focus of significant academic research. In due course these artefacts will rejoin the rest of the collection at Eton, where it is displayed in the purpose-built Jafar Gallery.
To enquire about the collection or arrange a research visit, please get in touch.
I left wanting to do my history degree all over again, or somehow come to Eton to learn.

Visitor
Photo by Kelly Sikkema on Unsplash
Join Eton College Collections for a FREE drop in half term family event all about what and how the boys and masters of Eton College ate over the past 600 years (with a little Halloween thrown in as well) Last chance to visit the Six Centuries of food and Dining Exhibition.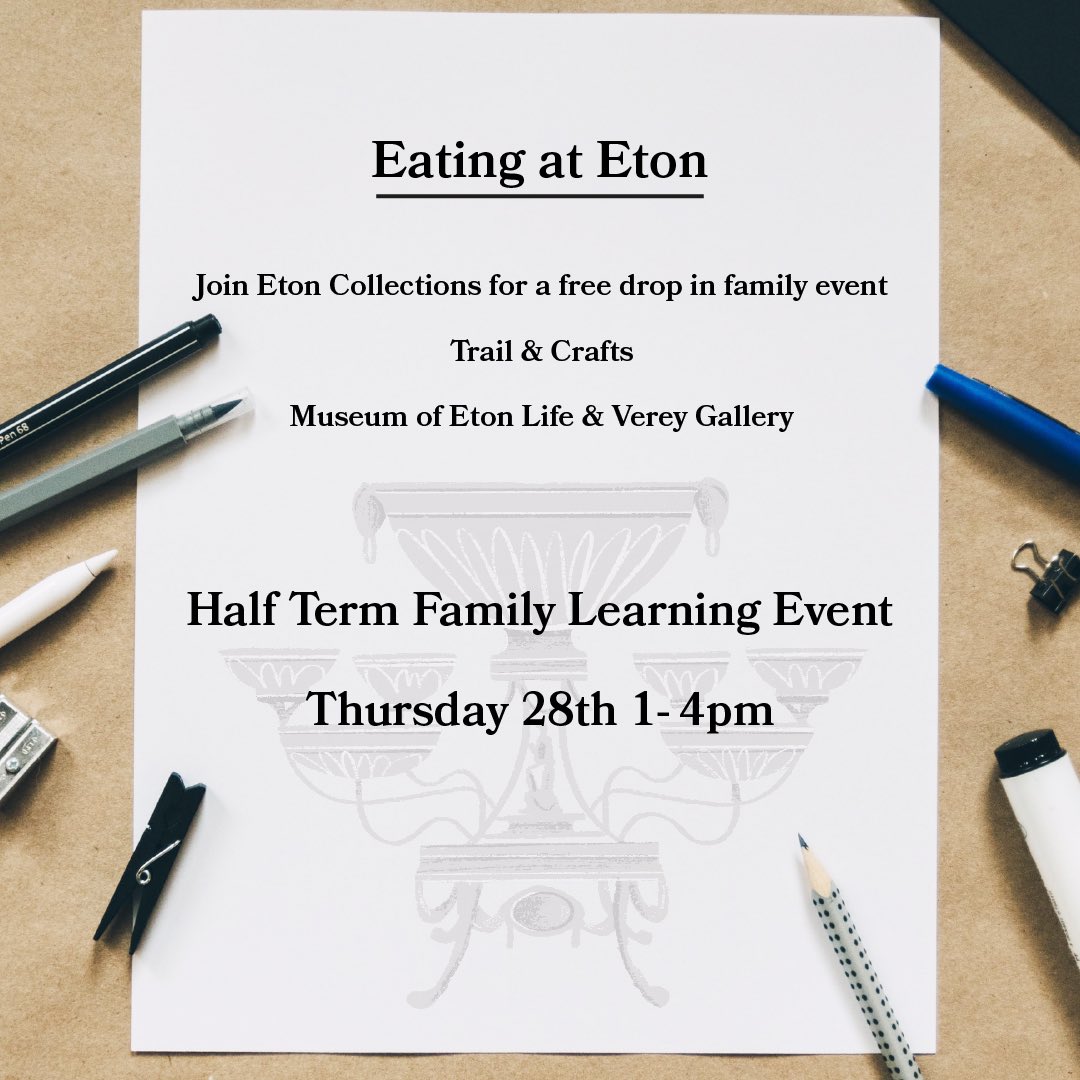 For anyone who will be around with little ones over the break, we are running a half term event in the Museum of Eton Life on October 28 from 1-4 pm. Why not stop by? https://t.co/Gyu0JdgSYk
RT @EtonArchives: Talks, tours and tea… The big three!
RT @SEMFederation: Come and join us for our next Study Day event! We'll be visiting the Eton College Collections for an event themed around…